WE DO NOT STOCK EVERY OCS RADIATOR FOR A COMPREHENSIVE LISTING OF THEIR PRODUCTS VISIT THEIR SITE BY CLICKING HERE.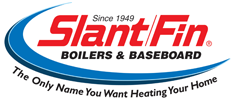 WE DO NOT CARRY SLANT/FIN BOILERS WE CARRY WILLIAMSON. I DO NOT CARRY ALL OF THE SLANT/FIN BASEBOARD THE LINES I DO STOCK ARE LISTED BELOW.

Fine / Line 30
Application: Residential hot water heating
Output: 610 Btuh (180˚F at 4GPM)
Height: 7-7/8"
Lengths: 2' - 14'
Depth: 2-11/16"

For decades, Fine/Line 30 has been leading the industry with high quality baseboard heating. Exceptional product quality has made Slant/Fin's Fine/Line 30 baseboard the number one choice of heating professionals. It is manufactured with contractor-friendly features for quick, trouble free installation, without annoying callbacks. 30 Series offers the widest range of matching precision accessories are available. For over 40 years, Slant/Fin heating elements have set the industry standard for heating performance and silent performance.
Made in the USA by the leader in baseboard heating
Rust-resistent, galvanized steel enclosures with nu-white enamal finish maintains beauty
Commercial grade material at residential cost
Designed for single homes, apartments and renovations
Optional Flared element tubes (available in 1/2" or 3/4") facilitate joining sections
Industry's best high strength support brackets & no-noise expansion cradles
Accommodates return line with short radius return bend
Drawn steel end caps and wall trim provide a distinguished look
1-3/4" floor-to-front cover opening promotes good air circulation for effective convection heating
Fully modulating, pivot mounted damper helps control individual room temperatures
Extendable accessories for wall-to-wall fit with no cutting makes a neat installed appearance
Easy to open zip-strip cartons
Shipped fully assembled for fast, easy installation
TECHNICAL LITERATURE
Multi / Pak 80
Application: Residential and light commercial hot water or steam heating
Output: 620 to 840 Btuh (180˚F at 4GPM)
Height: 8-7/8"
Lengths: 2' - 14'
Depth: 3-1/2"

Multi/Pak 80 is the ideal choice for deluxe residential heating or for a broad range of light commercial heating requirements. With a choice five interchangeable H-Series Slant/Fin heating elements for hot water or steam, Multi/Pak 80 suits every requirement. Permits higher velocities, lower pump loads and longer loop runs. Multi/Pak 80 is also ideal as a supplement to Slant/Fin residential baseboard in locations where wall space is limited and higher outputs are required.
Made in the USA by the leader in baseboard heating
Designed for single homes and renovations and light commercial applications
Fully modulating, pivot mounted damper helps control individual room temperatures
Neat fitting accessories stay in place to help maintain beautiful appearance
Optional Flared element tubes (available in 1/2" or 3/4") facilitate joining sections
Industry's best high strength support brackets & no-noise expansion cradles
2" floor-to-front cover opening promotes good air circulation for effective convection heating
Extendable accessories for wall-to-wall fit with no cutting makes a neat installed appearance
Easy to open zip-strip cartons
Shipped fully assembled for fast, easy installation
TECHNICAL LITERATURE
3137 BAILEY AVE., BRONX, NEW YORK |